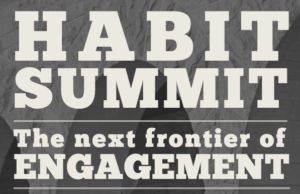 We've just announced new speakers and their respective talks for the upcoming Habit Summit taking place on March 25th at Stanford. The line-up is amazing!
At the Habit Summit, we'll hear from experts like Julie Zhuo (Director of Product Design at Facebook), best-selling authors like Gretchen Rubin (The Happiness Project) and Natasha Dow Schull (Addiction by Design), innovators like Josh Elman (formerly of Twitter and LinkedIn), Jeff Atwood (co-founder of Stack Overflow), a number of VCs, product leads, and other phenomenal speakers.
The Habit Summit was created for product managers, designers, executives, and marketers: anyone whose product or company would benefit from repeat customer engagement. I'm thrilled to be involved and I can't wait to hear these speakers.
Tickets to the Habit Summit are selling fast and we're on track to sell out. If you are planning to attend, note that prices of tickets go up on March 10th, so get your ticket soon. More information about the Habit Summit is available at: HabitSummit.com
I'm teaching my 3.5 hour Hooked Workshop the day after the Habit Summit. The workshop is for people working on products they'd like to make more habit-forming and is a hands-on version of my book. Information about the workshop is available here: hookedzurb.eventbrite.com
Finally, blog readers can use the code "NirAndFarFriends" for a $50 discount on either or both events.
I hope to see you there!