Hooked: How to Build
Habit-Forming Products
Hooked: How to Build
Habit-Forming Products
Revised and Updated, Featuring a New Case Study
"A must read for everyone who cares about driving customer engagement."
-Eric Ries, author, The Lean Startup
Order Hooked »
Nir Eyal's writing has been featured in


Claim Your Exclusive Hooked Bonuses
Order the updated edition of Hooked and claim your exclusive bonuses.
Hooked Supplemental Workbook
This workbook is the perfect complement to Hooked. It is specially designed to help you build your own habit-forming product or service.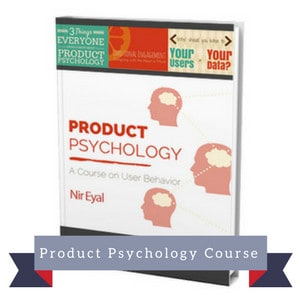 Product Psychology
Course
We've asked the brightest minds in the field to share their best resources on user behavior with our members.
Behavioral Design
Videos
Hear from bestselling author Gretchen Rubin on "The Secret to Making and Breaking Habits," industry veteran Josh Elman on "How Twitter Built User Habits", and more!
CLAIM YOUR HOOKED EXCLUSIVE BONUSES
GET PRE-ORDER BONUSES
Once you've ordered your updated edition of Hooked, enter your name, email address, and purchase details below to get access to the free Hooked bonus materials.
Order your updated edition of Hooked,
featuring a new case study.
Order Hooked »
How do successful companies
create products people love to use?
Why do some products capture widespread attention while others flop? What makes us engage with certain products out of sheer habit? Is there a pattern underlying how technologies hook us?
Nir Eyal answers these questions (and many more) by explaining the Hooked Model—a four-step process embedded into the products of many successful companies to subtly encourage customer behavior. Through consecutive "hook cycles," these products reach their ultimate goal of bringing users back again and again without depending on costly advertising or aggressive messaging.
Hooked is based on Eyal's years of research, consulting, and practical experience. He wrote the book he wished had been available to him as a start-up founder—not abstract theory, but a how-to guide for building better products. Hooked is written for product managers, designers, marketers, start-up founders, and anyone who seeks to understand how products influence our behavior.
Eyal provides readers with:
Practical insights to create user habits that stick.
Actionable steps for building products people love.
Fascinating examples from the iPhone to Twitter, Pinterest to the Bible App, and many other habit-forming products.
I speak about product management all over the world, and this is the single book I consistently recommend as a must-read.
The most high bandwidth, high octane, and valuable presentation I have ever seen on this subject.
Hooked is the definitive guide to customer engagement and retention in the digital age.
Purchase Hooked Outside of the US
To purchase Hooked outside of the US, please visit our favorite retailers below:
THE WALL STREET JOURNAL BESTSELLING AUTHOR
Nir Eyal
Nir Eyal writes, consults, and teaches about the intersection of psychology, technology, and business. He is the author of the bestselling book, Hooked: How to Build Habit Forming Products.
Nir founded and sold two companies since 2003 and has taught at the Stanford Graduate School of Business and the Hasso Plattner Institute of Design. In addition to blogging at NirAndFar.com, Nir's writing frequently appears in The Harvard Business Review, Inc, and Psychology Today among many others.
Top Articles
Plan Better. Work Better. Live Better.
Below are some of Nir's best articles on how improve concentration, control your attention, and manage distractions. Read on and begin your journey towards becoming indistractable.
Venture capital (VC) is a great opportunity for new entrepreneurs seeking to bring a product to life—but the funding is incredibly difficult to secure. A survey of almost 900 VC firms found that they consider 101 opportunities on average for every deal they close. Still, the benefits of VC funding are clear.
read more