Regain Hours of Lost Productivity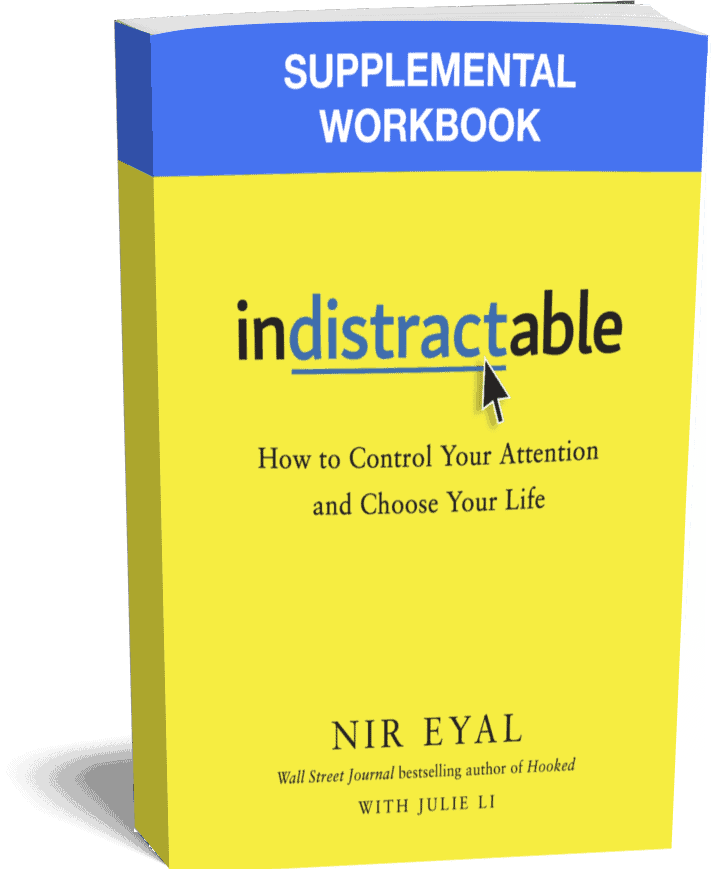 Regain Hours of Lost Productivity
Control your time and your attention by understanding the psychology of distraction.
Download my BONUS 80-page workbook full of exercises and activities to help you become indistractable. You'll also receive my latest research, writing, and best articles I find each week.
Still struggling with Distraction?
In Becoming Indistractable, you'll learn how to permanently remove distraction from your life.
You'll learn powerful strategies to help you recognize and overcome your personal triggers and weak areas and be held accountable for making the changes needed to become the most effective version of yourself.
Complete exercises to apply the research from Indistractable to your own unique situation.
Internalize key lessons with self-paced, high-quality video recordings.
Access Nir's recorded responses to the burning questions of like-minded professionals also seeking to permanently overcome distraction.
Begin Your Journey Towards Becoming Indistractable
By the time you complete the workshop, you'll have taken back control of your time, set personal and powerful pacts to make sure things get done, and put strategies in place to identify and deal with internal triggers.
It doesn't matter whether you've read Indistractable a dozen times and still struggle with distraction or barely had time to skim—Becoming Indistractable is the ideal combination of activities and support to make sure you're able to take back control of your time and attention forever.
Becoming Indistractable is the skill of the century. Begin your journey and understand the advantage of truly being in control over your time and attention.
Becoming Indistractable Workshop
• 7 Modules of On Demand, High-Quality Videos Lessons
• Community Q&A Event Recordings
• Self Assessments and Reflection Activities